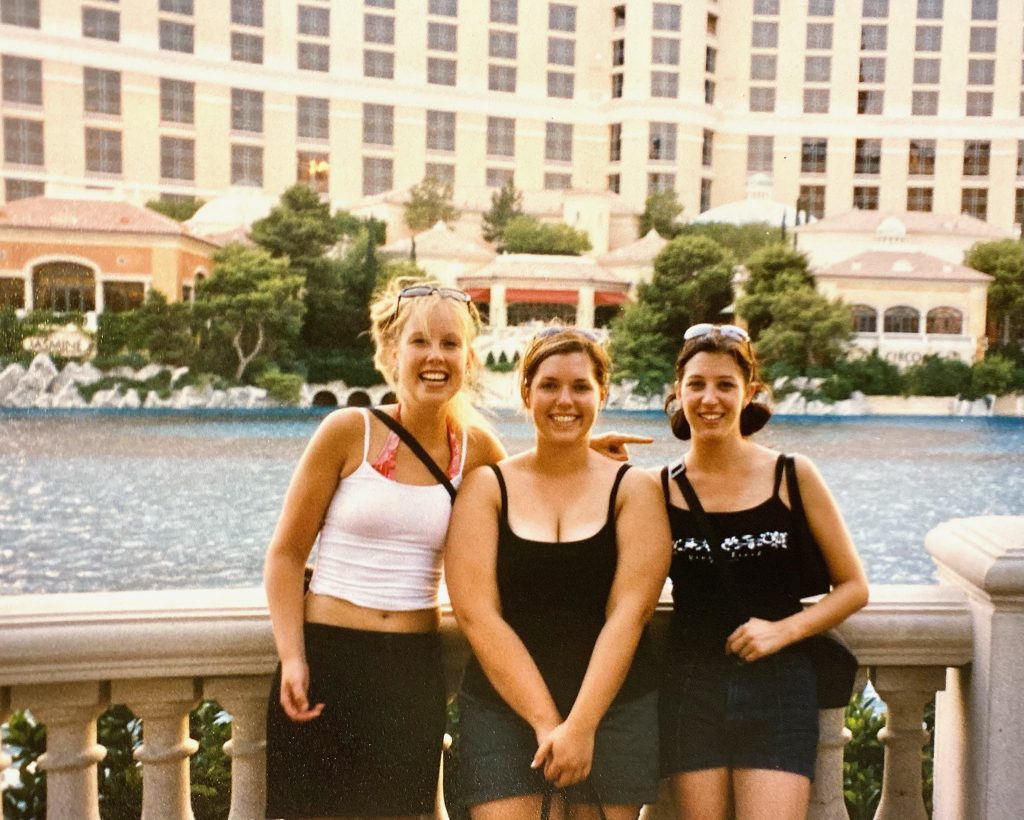 I'm going to Vegas, baby! First time since turning 21. (I was so young I told people I was going to Atlanta too, just cuz I had a connecting flight there.) Sure I'm going with my boyfriend and I don't think you're supposed to do that, but I'm pumped.
I figured the trip would be good for material too. I was currently trying to write a bit about how I'm always the girl in the back seat of an over packed car who had to sit horizontally across the three people actually wearing seat belts. You had to be very cautious of hiding your head from potential cops driving by. Apparently the designated driver to drunk person ratio in Ottawa that year was 7-1.
But I was very stoked to accompany my boyfriend to his foosball tournament at the very glamorous Riviera on the Las Vegas Strip. Don't forget it's 2002, so a lot of these hotels hadn't been demolished or blown up as a New Years Eve stunt yet. The boys were going to be busy training for the big games, so all the girlfriends joint forces so we could hit the club scene.
As it turns out, we were in luck. It would be much easier to get into the hottest dance clubs without our boyfriends. Thank god for foosball! (And in my case, some poker tables which I know my bf ducked into after hours.)
My boyfriend's foos (pronounced fooze) partner was Hussein, and his girlfriend Tanya became my bff instantly. I lucked out cuz she was super hot- a more showered, booby version of me. Made scoring a free Vodka Red Bull here and there way easier. (My boobs didn't grow till my late 30's, after decades of nachos.) Also, I think Red Bull was still banned in Canada at this point, so after I had three I thought I was gonna have a heart attack.
Despite the fact I desperately wanted to get into night clubs, I was a terrible dancer. At best I had the Britney hair flip down, but all my other moves just spilt other people's drinks. But me and the foosball wives were lucky enough to get in to the esteemed Studio 54 in the MGM Grand. (These bars seem to change names every five years to keep up with the times but I believe it's called Hakkasan now.) Tanya and I were busting a move to Sonique's "It Feels So Good," but I was in my head about my bad dancing and my possible heart attack. I could see some surfer looking dudes (DUDES- that's what we called them before the word "bro" took off) laughing pretty hard on the dance floor. I had to assume they were laughing at me. Being a few years into comedy, I was getting really good at calling out my short comings, so I confronted them.
"Are you laughing at my dancing?"
This seemed to make them laugh even harder. One guy moves closer and responds.
"What?"
(Dance floor conversations. There's a lot of "What?"'s.)
"ARE YOU LAUGHING AT MY DANCING?'
"NO!"
"YOU CAN TELL ME IF YOU ARE. I KNOW I'M A BAD DANCER."
I'm good at breaking the ice, eh?
'WHERE ARE YOU FROM?"
"OTTAWA!"
"IOWA?"
"NO! OTTAWA!
Blank stare.
CANADA!"
Canadian cities don't always register with Americans.
We keep chatting on the dance floor until we realize it's a bad spot to talk. We find a bench that's not reserved for bottle service and some how end up talking for hours.
When the foosball wives were ready to head back to the Riv, I tried to figure out a way to say goodbye to my new Huntington Beach dance partner. My cell phone didn't work in America, or maybe it did but my bill would be a million dollars so that wasn't an option. He suggests me and my friends come by the pool tomorrow at New York, New York. Too bad the only thing I'm more insecure about than my dancing is my body in a bathing suit.
That ain't happening, but I say "maybe" anyway. We hug goodbye.
I thought that was it, but…
My last day in Vegas I was walking along the strip when I hear,
"YOU!"
I turn and it's Huntington Beach guy. And I know it's inappropriate, but I was excited to see him.
"You didn't come by the pool!"
"Oh ya I know. I don't like my bathing suit. Sorry!"
"Well, I'm not letting you go this time."
And from that moment on, he was by my side. We walked the strip until the sun went down and back up again. Imagine Before Sunrise, but all the European cities are fake and made in the late 90's. If it wasn't Vegas and 2002, I'd have more people to text and check in with. But some how that night went completely unnoticed by anyone except me and him. That's what happens when you meet a fellow Sagittarius who's as incapable of being practical as you.
The last spot of the night was an after hours bar at the Venetian. Our desire to drink was fading, as it always does around your last day in Vegas. (Back then I thought three nights should be the MAX anyone stays in Vegas, but now I'm a rebel and can last two weeks. Mostly thanks to edibles.) Our conversation takes a turn for the hopeless romantic…
"Do you believe in soulmates?"
"Fuck ya, I do."
"I think we might be soulmates…"
(I'll leave it up to you, the reader, to decide who said what.)
I couldn't even write this in my diary, because I was so ashamed (and worried someone might read it) but we did kiss. And it was powerful. The kind where you feel like you have a strong argument in favor of "love at first sight." Was this cheating? Nothing else happened. It was just the peak of our bonding. A classic Vegas tale, really.
But the kiss is always the moment when the person in a relationship knows they have to go. We walk to the cab stand and he holds my hand.
"Don't go back to Canada. Come to Orange County with me. We have room for you in the car."
I couldn't help but think back to that bit I'm working on. I was tempted to ask,
"Will I be sitting horizontal?"
But instead I just say,
"I wish."
"Come on! I'll take care of you!"
(We're both 23 lolololol)
"You have my number. You can call me."
"Okay, but if you don't come to me, I'm coming to Ottawa."
I duck in my cab and wave goodbye.
At least he's not calling it Iowa anymore.
I get back to my hotel room and shockingly my bf is still playing poker somewhere. (Tragically, he did NOT win a foosball trophy.)
We head back to Atlanta, and then up to the mother land.
When I walk back into my sweet Glebe apartment, my answering machine is blinking.
Mr. Huntington Beach is not letting this thing go.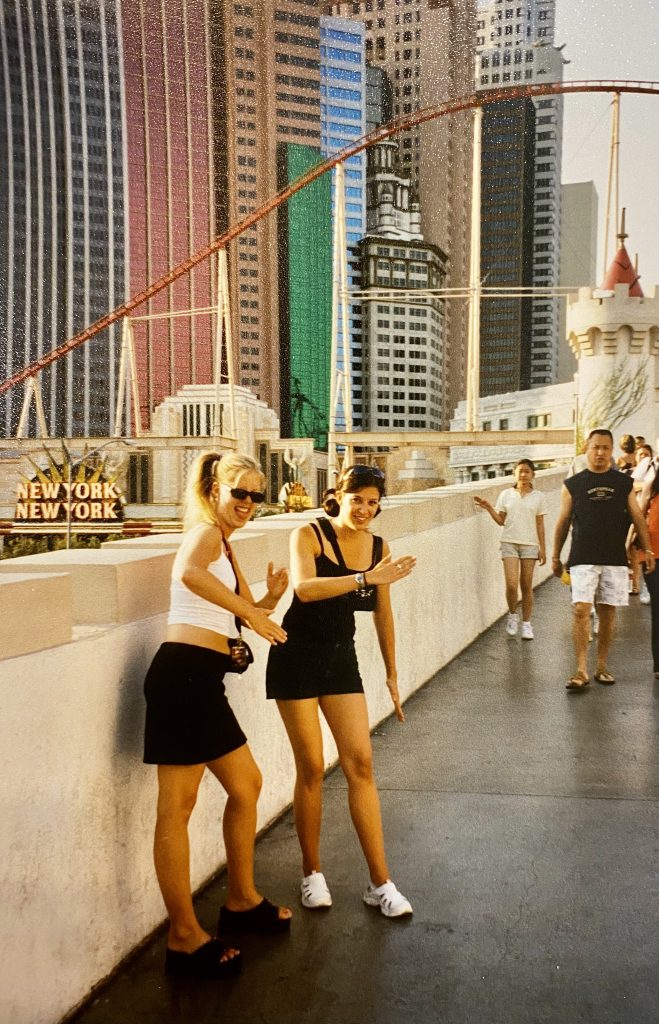 Note: These pics are actually from a trip to Vegas later in 2002, featuring my Vancouver friends Andrea and Tania with an i. (I know a lot of Tanya/Tania's.) These are not actual women who date foosball players. But they did witness me trying to learn the robot.