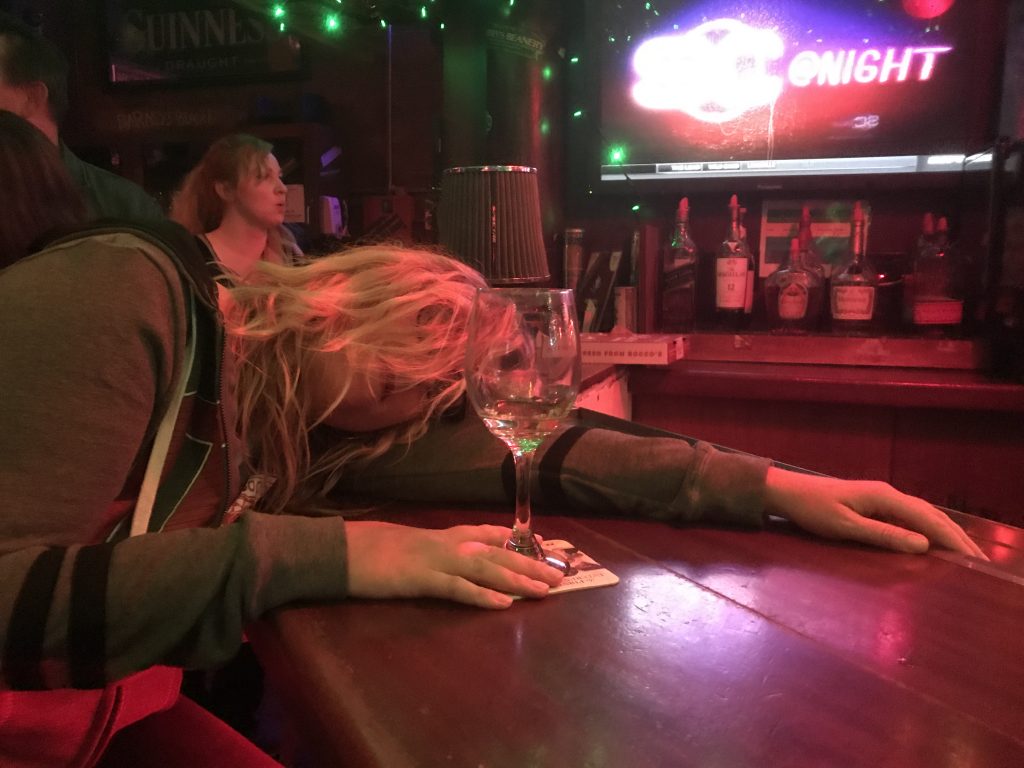 It's pretty easy to see why this blog is called "It's Taking a Long Time To Become Famous…" If anything is ruining my career it's me. I get a good thing going, then take a two week break. (Or abandon a project all together.) Telling of my personality and/or work ethic. (I got a new puzzle!) I struggle with commitment as you might know from my old dating blogs. BUT- I WILL finish telling this fucking story even if it takes me the rest of my life.
Now where was I? (Yes, I did go back and re-read my last chapter. That's how lost I am.)
Right! It's spring of 2002. Not really sure tagging the last blog with David Koresh helped my readership, but sometimes you gotta try new tags.
I believe it was me who first coined the term sexual rock bottom. People always accuse men of thinking with their lower regions but women do it too. The irony being I moved across the continent without actually getting a sample. Women of my generation were trained that way, even though my cousin Debbie fed me Jackie Collins books that warned me otherwise. In my fave, American Star, the protagonist saves herself for marriage- then on her wedding night discovers her husband is impotent. That's why I do it on the first date now. Gotta play it safe.
(Not that I care if you're impotent. No pregnancy scares and endless oral? Sign me up!)
But after you follow your genital desires and it fails you swear you'll never do it again. That's right. I'm 23. Not making that mistake again. (Insert smirk emoji that didn't exist yet here.) It's time to think with my head wherever that is. Sure I'm gonna be crashing with my ex-boyfriend and his new girlfriend, but I was never into threesomes. (I skipped those and went straight to foursomes. Made more sense number wise.)
Lisa Gay-Tremblay has done the saintly job of picking me up in Huntington Beach (from her home in Sherman Oaks) and dropping me off at at my ex-boyfriend's. (I was like George of the Jungle back then, swinging from man to man like they were vines.)
She wasn't wrong. It was a three hour drive with all the Memorial Day weekend traffic. Hard to have one of those Reality Bites Lelaina and Vicki singing "Tempted" moments when you've just fucked up one person's Friday and your own fucking life.
Neither me nor Marcus had cellphones, so the plan was for me to get dropped off at Bikram's School of Yoga on La Cienega, where him and Tanya were training. I enter the giant, sauna-like classroom wearing street clothes, lugging two giant suitcases containing my entire life. (How do you say "lost girl" in Sanskrit?") There's at least 100 people in this room. There's no way I'm going to spot him when all I can see is backs and butts. Do they really do cartwheels in this kind of temperature? (I knew nothing about yoga at the time.)
When the class ends, all the sweaty bodies pass me in the doorway, and Marcus and Tanya spot me and smile. (Hugs would have been grody in this moment.) I can't help but think of the last memories I have of Marcus… him high on ecstasy dancing to "Smack My Bitch Up" at an outdoor rave in Chilliwack. Compare that to now, him training to be a Bikram Yoga instructor. Comedians have a fascinating way of cleaning up their lives to the extreme.
As we head for the Pico bus, (like the glamorous Canadians in L.A. we are) Marcus mentions that Bikram guy is actually a huge creep who owns 13 Bentleys and cheats on his wife. Not exactly very "Yogi-like."
Hmm…. maybe he's just saying that cuz he's jealous…*
We get to their apartment which might be a good location if you think the 10 is a tourist attraction. It's furnished, in that sterile "we're only here for two months" kind of way- no TV, no Internet, no phone. All the fun of the early 2000's AND with no money to go out! Oh god- what if I have a threesome with my ex and his new girlfriend just to have something to do…
But it's not half as awkward as Huntington Beach. If you have to crawl back to an ex, I recommend doing it in another country. I sleep on the couch with a towel as my blanket. (You really shouldn't chirp someone's apartment when they're literally saving your life.)
Then next day, I get up ready for my big day picking Natasha up from the airport. And by "picking up," I mean I'm figuring out how to take the bus to the airport. This was pre-smart phones, so my big plan of attack was to stand on the southbound side of the road and pray it gets me close.
(Is this the equivalent of those stories "back in my day we walked to and from school, in the snow, uphill both directions!?")
I miraculously figure out how to get to the airport. I hang in arrivals, and an older man who looks vaguely familiar approaches me.
"Hi, how are you? I'm so sorry to do this, but my bag got lost by the airline and all my travelers cheques were in there. I just need $20 to get a cab. Could you please help me?"
Hold up… OMG he's a SCAM artist! WHO KNEW? (This is a callback. I hope you guys are reading these in order.)
"Oh ya, I remember you from last time. I'm actually running out of money. Any chance I could get that twenty bucks back?"
Shocked that any locals would actually be picking their friends up the airport, he slowly and quietly backs away from me.
BUSTED!
I'm getting good at this L.A. stuff.
When I spot Natasha, I'm next to tears. Every sign of home when you first get to L.A. feels like an emotional relief.
And as I guide her back to the bus stop, I can't help but shout,
"Welcome to L.A!"
We get back to the apartment just in time to drop the suitcase so the four of us can hit Venice Beach for the drum circle. Because any girl who was in her twenties in the early 2000's definitely fucked a guy who was into drum circles.
Walking along Venice Beach felt like we were on the set of Romy & Michelle's High School Reunion, a movie me and Meghan (fellow Phi Sig and BFF) had memorized with dance moves. When people ask what I do for a living (and they WILL) I'll just say I invented Post-It's.
The drum circle is not really my thing, but I pretend it is and take puffs of every single joint that gets passed to me. Getting high only makes me wonder more about what my next step in L.A. is going to be… Natasha and I head off for a walk down the boardwalk.
"Marcus and Tanya are going back to Ottawa in a few days… Fuck. What are we gonna do?"
Natasha, not worried at all, starts asking people if there's a hostel nearby.
That's right. People with the Queen on their money are very hostel savvy.
And it turns out, Venice Beach has a few. (It's not all people living in dumpsters!)
We wander into one on Brooks Street enquiring about rates and availability. Natasha, being the problem solver and world traveller that she is, asks,
"And can we clean in exchange for free rent?"
"Yes."
So while I always thought channeling my inner Mr. Belvedere had to do with late night writing…
Now…
I was about to become the butler.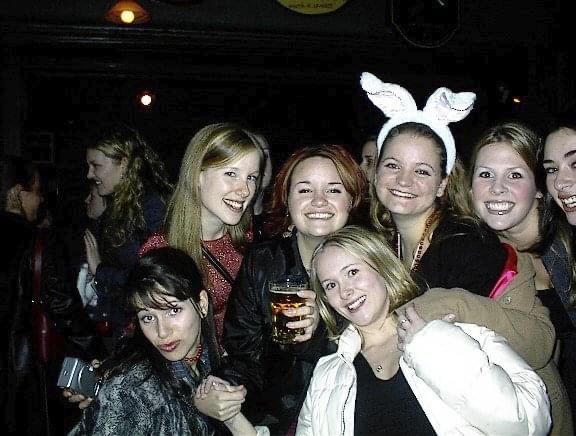 (I don't have a lot of pics from this time in my life, despite the fact I'm actually HOLDING a camera in this picture. You can tell by the bunny ears we were really worried about our futures. Tasha on lower left, Meghan, the Romy to my Michelle on right, and all my lovely Phi Sigs all around. Drunk photographer, no retakes cuz we never knew we needed one until after the film was developed, so sadly we only have half of Gonçalves' face.)
*Marcus was SO right! The most interesting part of writing this blog is realizing how many creeps I've naively crossed paths with…