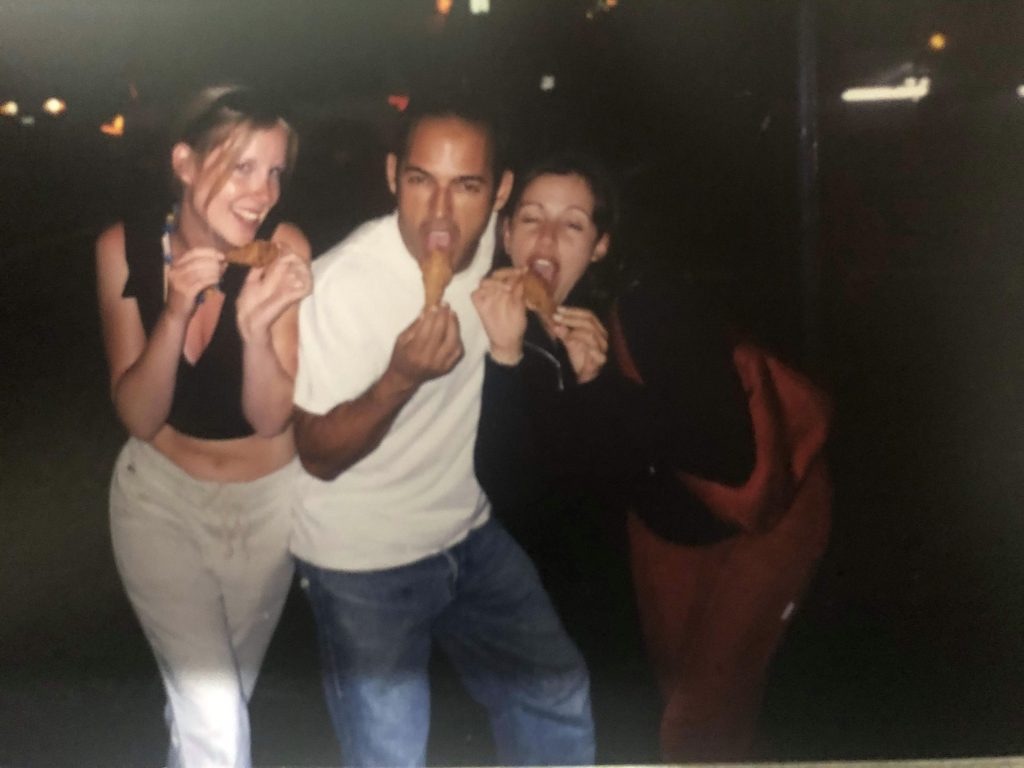 As it turns out, it was VERY hard to make people go see Craig Kilborn. When I showed up to the bar at Islands for what I thought was going to be epic payday I was shocked that I only made $90. My first thought was,
Ninety isn't even divisible by 12…
I'm good at math.
This money doesn't make any sense. And def not worth the risk of full blown skin cancer standing on the boardwalk all day. Although I was also trying to get people to see pilot tapings, which gave me PTSD to a hideous show me and my family once got dragged into seeing. I was sold cuz the guy from The Cutting Edge was in it. (D.B. Sweeney, baby!) But it turned into a hostage situation fast. Some how this half hour sitcom was taking four hours to tape. It was a struggle to even go to the bathroom, which is a huge deal breaker in my family.
I needed a new plan.
(I seemed to "need a new plan" every week.)
I kept using the pay phone in the hostel to attempt to reach Shaun Majumder. When he finally picked up the phone I was so excited.
"WALK-IN-SHAW!"
It always amazes me when people flock to my not so easy to remember last name, as opposed to Christina- which nobody ever remembers either, so I don't know why I'm bringing it up.
We plan a cool night in West Hollywood for Natasha's 21st birthday. Natasha and I take the bus, because as you know from my passion for recycling, I'm also eco-friendly. (Broke.)
There's a bus along Santa Monica Blvd that takes us straight to place we're going for dinner with Shaun. As a girl who listened to Sheryl Crow's "Tuesday Night Music Club" on repeat in high school, I couldn't help but stare out the window looking for the bar that faces the giant car wash.
We head into town a little early, and hop off the bus a little after passing through Beverly Hills. There seemed to be a lot of bars in this area, so it might be perfect for happy hour.
We spot a cool looking patio just off the main drag on Robertson and decide to wander in. I hit the bathroom first thing (again, it's a Walkinshaw thing.) I notice a man walk out of the women's bathroom. Ohhhh this place is fun already. Then I hit the bar to buy a round.
"Hi! I'll have two apple martinis."
A 2002 classic.
The bartender shakes em up, and hands them over.
"Twenty-four dollars."
"Oh, I just wanted two."
"Right. That's twenty-four dollars."
Yikes. That's like my whole bank account in Canadian. Gotta bad feeling the standard dollar a drink tip won't hold up here either. At least there's a huge slice of apple floating on top. Supper too.
We meet a couple of women who chat us up and end up buying us a round. Thank God. That subsidizes my loss on the last purchase. We explain we're from Ottawa, and as per uje we get,
"Iowa?"
"No, Ottawa."
Being Canadian is like being a vegan. We bring it up a lot. There's no conversation we won't interrupt to sing along to an Avril Lavigne song, while also proclaiming "She's Canadian!"
We wander around the corner to another bar that actually has a real happy hour. Phew. I won't chirp anyone for drinking Bud Light if it's only three dollars.
This bar is loaded with hot guys. Our lucky day! We start chatting up two babes. Obvi we let them know we're from Canada. Seems to be our best ice breaker.
They start smiling and giggling at us.
"Are you guys together?"
"No we're just friends- sorority sisters, actually. She's my little."
"Do you guys know where you are?"
The question is mildly confusing. Then one of the guy's blurts out,
"You're in BOYS TOWN!"
That explains the good music and the bar across the street called Motherlode. A solid lost tourist moment. Should have gone with the story we're from Iowa. To this day, Boys Town still remains the funnest part of L.A.
We finally make our way down to Jones, where we're meeting Shaun for Natasha's birthday dinner. The place is so cool (still my fave restaurant in L.A. 19 years later.) Shaun is so welcoming and happy to see us. I had only done a few shows with him in the motherland. Most recently he hosted my Just For Laughs showcase at Yuk Yuk's. And just when I think he can't get any cooler, he waves at a girl he knows from across the room.
"Brittany!"
Omg it's the girl from Swan's Crossing! I LOVED that show. She was also on Sweet Valley High, but as a HUGE fan of the books, I still preferred to read about Jessica and Elizabeth. (Great, now I'm throwing shade to both Brittany Daniel AND Craig Kilborn in one blog. Apologies to both, cuz I'm Canadian.)
(See, brought it up again.)
Brittany is SO nice and gorgeous and it wouldn't be Hollywood without at least one celebrity sighting. Over dinner we tell Shaun all about our glorious lives in Venice Beach being maids in a hostel.
"You're doing what?"
"Ya, for free rent."
"No, no, no. My apartment is gonna be empty for a month. I'm going back to Canada for 22 Minutes. You can stay there while I'm gone."
Holy shit. This was too fucking nice. And his place was awesome too. I had nothing but horse shoes up my ass with people rescuing me. First Lisa, then Marcus, now Shaun… this was all becoming a pattern of my early life in L.A. Every week I seemed to have a new savior.
And Shaun was definitely not the last either.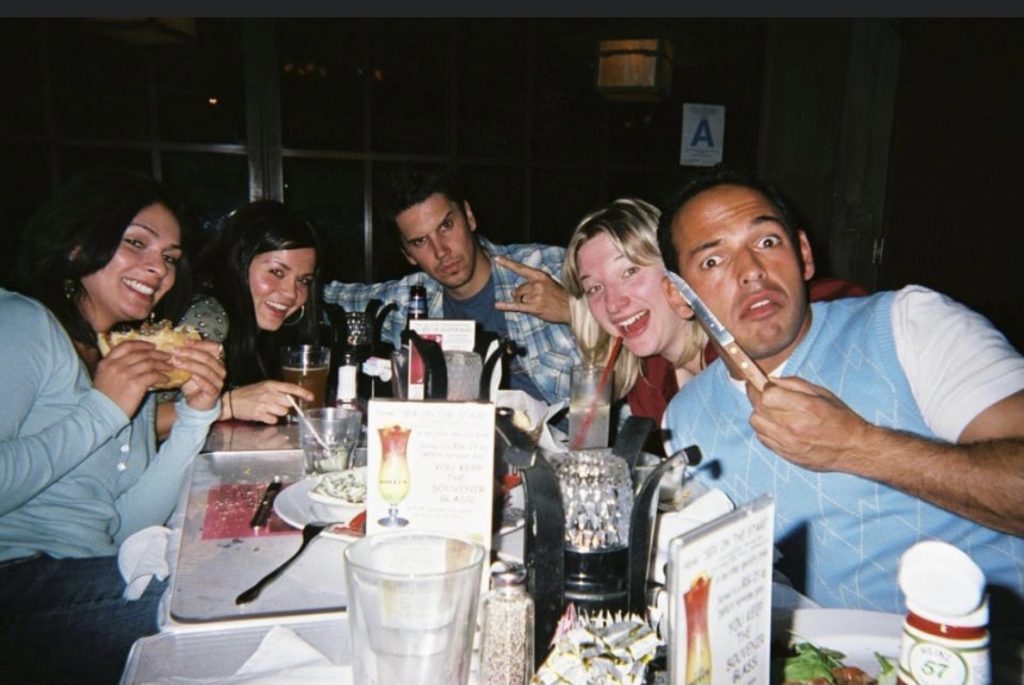 (This pic is actually my birthday at the Improv a few years later, including comedian Kristeen Von Hagen and Dave Nystrom who will also go on to house me. The pic at the top of blog is Natasha, Shaun and I the night of her birthday. That's not Jones though, it's us at Popeye's after a Hollywood bar crawl.)