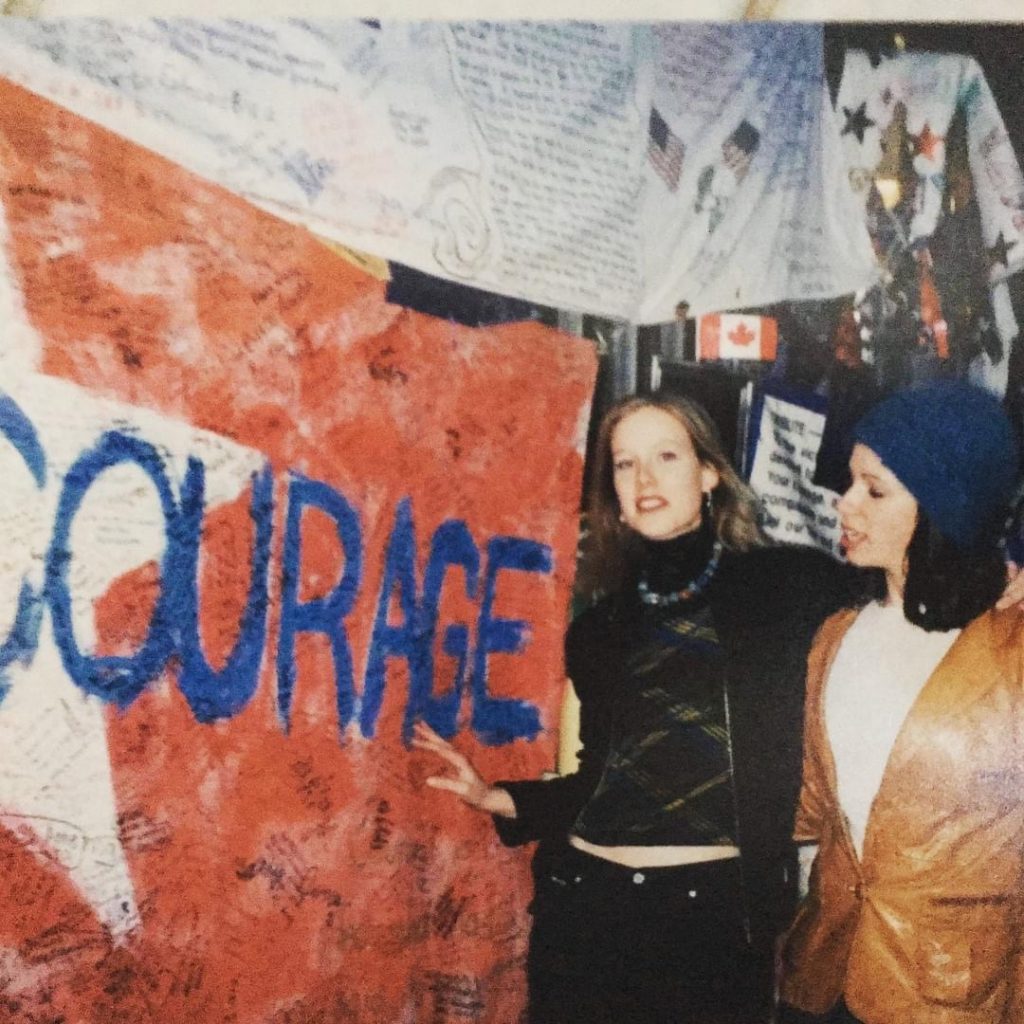 I'm 22 years old and three years into comedy. Cell phones are becoming more popular, and not just something only dads and cab drivers have. I am vehemently against getting one.
Hell no. The thought of people being able to get ahold of me 24/7 scares the shit out of me.
Straight from my diary, May 15th, 2001. (That's right! I have all my diaries from this date forward here in my apartment, so I'll be able to plagiarize my old self, and you can mock my EXACT dated thoughts!)
My supplementary job and boyfriend had changed. I quit my job at CD Warehouse shortly after the Spice Girls broke up. What was the point? Sure I bought Geri's solo album, but "Look At Me" was the only good song. I got a job serving at Canada's finest restaurant, Boston Pizza. (An Edmonton based chain, obvi.) After winning employee of the year at the end of 2000, I was feeling on top of the world. I took the DVD player I won and exclusively fed it Sex & the City season one DVDs.
I broke up with Marcus, but only after we did acid together. He tried to video tape the trip, but the second I started to feel it, I made him turn the camera off. To be honest, I REALLY wish I let it roll. I'd love to watch that now. That wasn't the tipping point by any means. My break up was a solid reason:
"I just really need to focus on the sorority right now."
My focus on comedy was building too, which was awkward having a restaurant job. Both these industries have the same busy nights of the week. But I thrived off slow days like Monday and Tuesday, cuz I could rock my friendly Canadian personality and sometimes get the full 15% tip I deserved out of the cheaper side of Ottawa. (WINNING!)
My material was coming along too. I replaced my first closer:
"Guys, if you go out later tonight, just remember, NO means NO… NO also means I'm not drunk enough, you're not rich enough and your dick is way too small."
(OOOOOF I am cringing writing that. I would NEVER make fun of penis size today. Those guys are great at oral. And I always date broke guys. And… well, I have a solid tolerance. I'm never drunk enough. That holds up.)
But my new and improved closer is way better:
"My best friend has a tongue ring…"
(HI, MEGHAN!)
"I think we know what they're good for… I'm too scared to get one. I think it might hurt and make me talk funny, so I've just decided if a guy wants that texture in my blow job, I'll just pop a marble in my mouth… It'll be the best game of Hungry Hungry Hippos he's ever played."
The joke was a quality closer. Something I could count on even if the middle of my set wasn't going well. And I was finally trying to write more than just stand up. I wanted to write a SCREENPLAY! Something like Reality Bites, obvi. I was incredibly optimistic about the future. I was really starting to think anything was possible.
And then…
I woke up one Tuesday morning in September. (As a diary writer, I can confirm I'm never sure of the date when I pick up the pen.) I had to work at 10:00am. I hopped in the shower around 8:45. My mom was selling AVON at the time, so she had gifted me a shower radio. I'd blast Magic 100fm, cuz even at 22, I enjoyed some Phil Collins. All of a sudden, the sultry voice of the female DJ came back on after "Against All Odds."
"We just learned news of a devastating plane crash at the World Trade Center in New York. Our hearts go out to every one effected."
What happened?
I run out of the shower, and turn on the TV. That's when I see it.
And then I see it again…
But this time it's the other tower.
I don't need to explain to you what happened.
It was the most traumatic thing I had seen on TV since The Challenger. But this was something different. You could convince yourself after the first tower got hit, it must have been an accident, but the second…
All of a sudden every dream, goal and worry you had yesterday seems to be superfluous.
By the time I got to work, it seemed like the whole world had fallen apart. Normally we'd have sports on our big screens, but today it's news, and everyone is glued to it. Nobody knew what to say, how to act or even work. My boss was sticking his keys in his ears like they were Q-Tips, which he only did when something was bothering him.
We kept the TVs on CNN all day with sound. Something we had never done before. All the government buildings in the city were being locked down. Planes were being diverted up to Canada. I didn't really think we'd get attacked too, but it was a possibility. I worked with a lot of people from Lebanon and Afghanistan who were able to explain way more about terrorist groups than I ever knew. It's embarrassing how it takes something catastrophic to happen before you choose to learn more.
I was always a big smiler, but I couldn't do it today. If I saw any tables laughing I'd literally get pissed off. I was on a split shift, but after watching replays of the planes crashing into the twin towers all day long, I eventually broke down. Incontrollable sobbing. I couldn't pretend I or anything was okay. My boss sent me home.
Yuk Yuk's cancelled the show on Wednesday. Thank God. I couldn't imagine trying to make people laugh at a time like this. I didn't feel like being funny nor could I pretend I had the power to cheer people up.
But when the club did open back up, I had to go. I wasn't on the show, but I wanted to see how professionals would deal with it. The headliner was from Toronto. Ottawa comics had an interesting take on Toronto. Some of them had tried out the city, hated it, and came back. Some found the Toronto comics arrogant.
"Let me see you Twirl" man was from Toronto, so I could understand. But surely on a week like this, they wouldn't try to make jokes about a terrorist attack that was surely leading us to war, right?
Wrong.
As I sat on the bar stool close to Tommy (the bartender) in case I needed another pint of Keiths for the pain, I PRAYED nobody would try to make jokes about Tuesday. It was DEFINITELY too soon. I don't even think the phrase "Too Soon" was in my vocabulary until this particular week. The first few local comics seemed to get through their sets respectfully. The crowds were polite, but low energy, which was to be expected.
But then the Toronto guy went on stage.
And you KNOW he had to try to make a joke about it.
I was horrified. The whole crowd was uncomfortable.
It took a certain calibre of comic to talk about 9/11. Three years in, I knew it wasn't me. Jon Stewart did it right.
But not many people in between.
I actually really like this comic today, but that was an awkward first impression.
I had only been to New York two times at this point in my life. Most comedians dream of performing there. But after that day, I feared it might never happen.
But guess what?
Dreams do come true.
I finally moved here…
March 1st, 2020.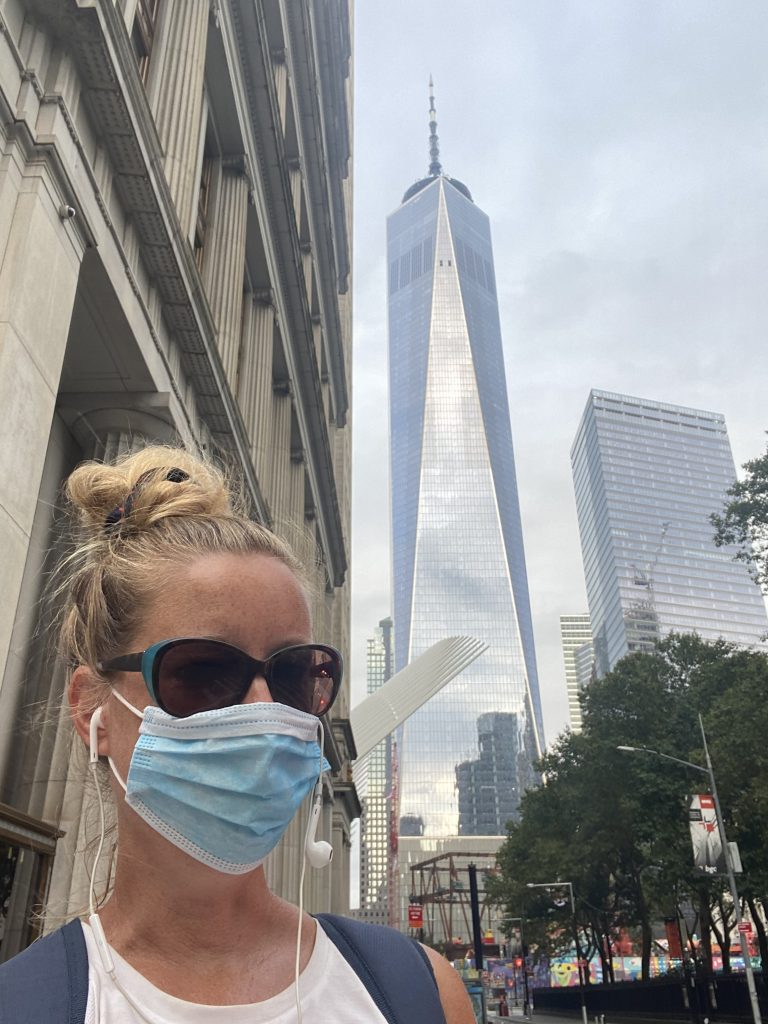 P.S. Pretty sure learning of 9/11 in the shower has scarred me out of proper hygiene to this day.
P.P.S. If you watched Sex & the City back then, that first season the towers weren't in the beginning anymore was a sad reminder.
P.P.P.S. I know this is a LOT of P.S.'s, but that first pic is of me and my sorority sister/friend Natasha when we drove to NYC for a "Canada Loves New York" Rally. Didn't want to say that in the beginning, cuz I didn't want spoilers. Was it obvious I was writing about 9/11? You can tell me…